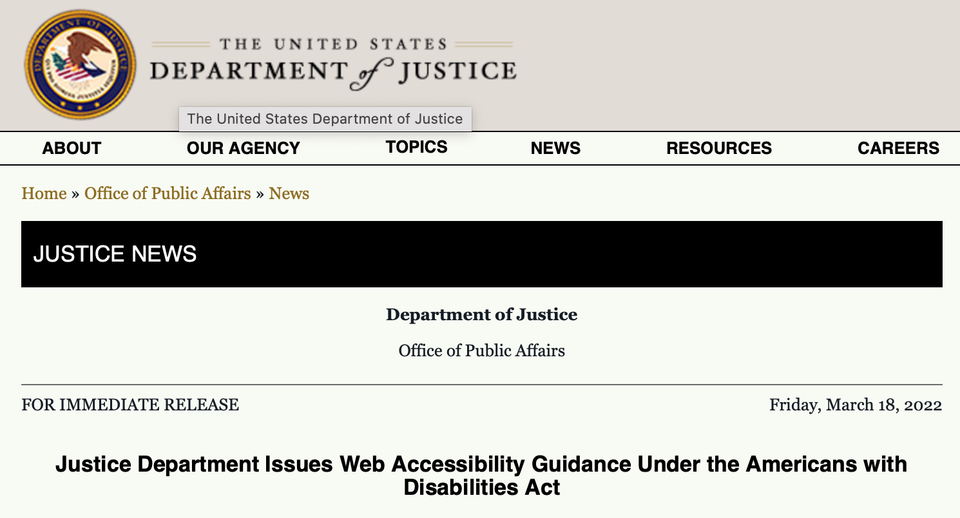 Justice Department Issues Web Accessibility Guidance Under the Americans with Disabilities Act
On March 18, 2022, the DOJ announced the inclusion of web accessibility guidelines under the Americans with Disabilities Act (ADA).

These new guidelines explain how to state and local governments as well as businesses open to the public can make sure their websites are accessible to people with disabilities.
Ecommerce Accessibility Stats
Don't just take our word for it...
What is a Certified Trusted Tester?
The Department of Homeland Security (DHS) Trusted Tester Process is a manual test approach that aligns with the Information & Communication Technology (ICT) Testing Baseline, and provides repeatable and reliable conformance test results.

A Trusted Tester is a person certified to provide accurate and repeatable Revised 508 conformance test results for web content. A Trusted Tester follows the Revised Section 508 Conformance Test Process for Web, uses approved testing tools, and evaluates web applications for conformance with Revised 508 standards. Trusted Testers are those who have passed the Trusted Tester Certification Exam.
What does WCAG stand for?
Web Content Accessibility Guidelines (WCAG) 2.0 defines how to make Web content more accessible to people with disabilities. Accessibility involves a wide range of disabilities, including visual, auditory, physical, speech, cognitive, language, learning, and neurological disabilities. Although these guidelines cover a wide range of issues, they are not able to address the needs of people with all types, degrees, and combinations of disability. These guidelines also make Web content more usable by older individuals with changing abilities due to aging and often improve usability for users in general.
What's the difference between A, AA, AAA levels of compliance?
There are three levels of conformance: A (lowest), AA and AAA (highest).

Conformance at higher levels indicates conformance at lower levels. For example, by conforming to AA, a Web page meets both the A and AA conformance levels. Level A sets a minimum level of accessibility and does not achieve broad accessibility for many situations. For this reason, UC recommends AA conformance for all Web-based information.

The WCAG document does not recommend that Level AAA conformance be required as a general policy for entire sites because it is not possible to satisfy all Level AAA success criteria for some content.

WCAG 2.0 guidelines are broken down into four primary principles:
Perceivable

Operable

Understandable

Robust
A (Single A) is viewed as the minimum level of requirement which all websites, apps, and electronic content such as documents should adhere to.

AA (Double A) is viewed as the acceptable level of accessibility for many online services, which should work with most assistive technology which is now widely available on both desktop and mobile devices, or which can be purchased as a third-party installation.

AAA (Triple A) compliance is viewed as the gold standard level of accessibility, which provides everything for a complete accessible offering, including all the bells and whistles which make the difference between a very good experience and an excellent one.

In summary, A is minimum competency, AA is a passing grade, and AAA exceeds expectations and creates the most accessible content and the best user experience for all users.
Do Automated WCAG Testing Solutions Work?
While software solutions are useful for binary testing, even the best platforms available can only detect up to 30% of WCAG issues. While these solutions help catch the low hanging fruit, such as broken links and missing alt tags, manual human WCAG testing is required to ensure your website is actually compliant.

For example, there are 60 testing parameters required for WCAG testing. Of those 60 tests, 46 of these tests (76%) require manual inspection of the page.

Additionally, automated programs have difficulty with:
Color Contrast: While many platforms can check for color contrast ratios, however, they are not able to consistently provide accurate results.
Links: Even though your website links have been coding properly, manual testing is required to make sure any links you have to external websites or digital assets are accessible as well.
Keyboard Focus: This is a huge issue for automated testing software. Visitors that rely on the keyboard to navigate a website need to know where their cursor is on the page - or where the keyboard focus is. This can only be accomplished through manual testing.
Improper Labels: Automated software can determine if there are labels associated with each element of your site, however, it cannot determine if the label serves it's purpose.
Alt Text: Again, automated software can determine if alt text has been added to all images on your site, however, it cannot determine if the alt text is appropriate or adequately describes the image.
Can you get sued for having an inaccessible website?
Short answer: Yes.

However, we at Mozaro do not believe in focusing on this as a reason to make your website and digital documents accessible. We believe it should be done because it is the right thing to do. Period.
Does making my website accessible really matter?
There are more than 41 million American's with a disability.

There are more than 1 billion people worldwide, that's 15% of the world's population, that have some form of disability.

Does that answer your question?